Ysabelle Triumphs in the Edinburgh Marathon, Raising £500 for CATH
21 June 2023 (Original 29 May 2023)
Elizabeth Criado-Band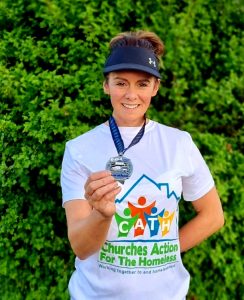 Under the beautiful Scottish sun, Ysabelle laced up her shoes and took to the streets of Edinburgh last Sunday. Competing in the Edinburgh Marathon Festival, Ysabelle raised an astonishing £500 for CATH on behalf of her late cousin, Barry Pearson. A victory for her, and a lifeline for those we aim to help.
Throughout the beautiful coastal route, Ysabelle was propelled not just by her stamina, but by an unwavering drive to make a difference. Running in the name of CATH, she crossed bridges, navigated tight corners, and climbed steep hills, an endeavour she completed almost in one piece, save for the loss of three toenails!
The money raised will assist in the delivery of much-needed services to homeless, and at-risk individuals across Perth and Kinross. As a charity, we are deeply grateful for Ysabelle's dedication. Through her impressive feat, she has shown us that we can each make a significant difference in our own unique way. On behalf of us all at CATH, thank you.
Inspired by Ysabelle's journey and want to take part in your own fundraising event? CATH would love to support you. We can provide a free shirt, necessary materials and plenty of encouragement for those willing to step up and make a difference, just like Ysabelle did. For further details, please contact Elaine at enquiries@cath-org.co.uk.
With every stride, every fundraising event, and every pound raised, we get a step closer to making life a little bit better for individuals and families across Perth and Kinross. Together we can build a community where people can thrive, not just survive.