CATH Throughcare Helped Turn My Life Around
21 June 2023
Sarah Barclay, Elizabeth Criado-Band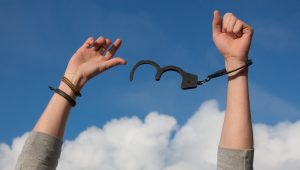 The change from prison back to the community can be an extremely challenging time. Many lose contact with loved ones and do not have a support system to get them back on their feet. With no home, medication, or support, many of these individuals reoffend, unable to cope outside of prison. CATH's Throughcare service strives to fix that support gap. Covering the whole of Perth and Kinross, they provide much-needed structure and support to those making the difficult transition from prison to society.
The support workers at Throughcare play a pivotal role in making sure people have the best chance of resettling into the community. Coping strategies, help accessing income benefits, help in getting employment and/or education, as well as referrals to partner agencies and counselling sessions help get service users back to doing the things they love. Support workers also accompany them at court dates, medical, and dental appointments, as doing these things alone can cause huge amounts of anxiety.
Stuart is just one of the people CATH's throughcare system has helped. Stuart had been in and out of prison since he was 17 years old, and he desperately wanted to make a change and escape the cycle of reoffending. When asked about his referral, Stuart said:
"From the minute I was released I felt supported. My development worker met me on liberation at the gate of the prison, then supported me to my criminal justice appointment that was imposed by the courts that I was to attend as soon as I was released."
Without this support, Stuart said that the stress caused from having to start everything from scratch with no support would have caused him to misuse alcohol and drugs as a coping mechanism. He explained that his gas was capped in winter, and that he had no television. His main support was through Throughcare, stating that "without my development worker supporting me, I would have cracked".
Now, Stuart is doing incredibly well. He has a comfortable home and sees his children regularly. When asked about how he is doing, Stuart said:
"I feel brilliant, I feel settled and content now that my life is on the right track. I have a comfortable home, I see my kids regularly, and now my development worker has organised me to attend alcohol counselling. This has helped me because it gives me a sense of social inclusion and positive attitude for my future."
CATH's Throughcare service enables local people to escape the unforgiving cycle of reoffending. Our dedicated support workers ensure that individuals like Stuart receive the help they need to rehabilitate back into society, and keep out of prison. By signing up for a £5 monthly donation, you can directly contribute to CATH's efforts to maintain and expand vital services like Throughcare, making a positive impact and creating brighter futures for those in need in Perth and Kinross.
Stuart is not the client's real name – this was used to maintain anonymity.